star ruby treatments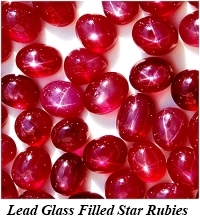 Heat Treatment is the most commonly used treatment for rubies. Stones, generally before they are cut, are heated to between 1700 to 1800 degrees Celsius (3100-3300 degrees F) for several hours. That is just a continuation of how nature made the gemstone itself, by massive amounts of high heat. Heating improves tone and saturation of the color.

Many Star Rubies also receive a Diffusion Treatment that exposes the surface of the stone to certain chemicals combined with heat. The diffusion is done on the surface of the ruby and could extend to around a millimeter into the stone. . The treatment creates a thin layer over the gemstone which strengthens the intensity of the star and improves the beauty of the gemstone. This is a stable treatment which should last a lifetime. However it must be noted that this treatment creates a layer over the surface of the stone, so a small nick or scratch could make a drastic effect on the appearance of the gemstone.

Update 2010: Recently, some star rubies are also treated by filling their fractures with glass which gives them an unusal glossy look. Read more about Glass Filled Star Rubies.
When buying a star ruby, make sure you ask the seller about treatment disclosures, or if you are unsure, ask for a reputed Gem-Laboratory certificate.
disclaimer
We have provided information on this page with the sole aim of making our customers aware of the treatments performed on star rubies. We, at The Star Ruby Shop, support only Natural and Untreated Gemstones and hence we do not sell heated, lead-filled, recrystallised, flux-filled, diffused, beryllium treated or synthetic gemstones. Whatever may be your preference, please emphasize on certificate from a reputed gemological laboratory to confirm the natural origin of any gemstone you purchase and to be sure that no treatments have been performed on it.
whats next?
Learn about Synthetic Star Rubies and Lindy Star Rubies.
socialize...
site info
© 2007-2011 StarRuby.in™ | All Rights Reserved | StarRuby.in is the online property of Harshil Jewellers based in Mumbai, India. Contact Us.